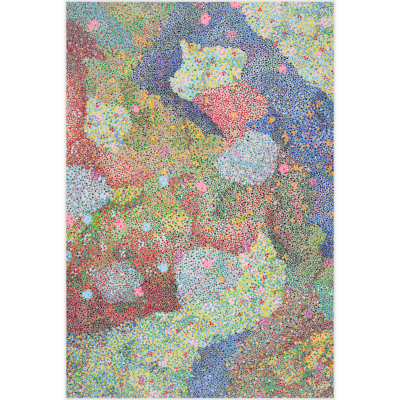 Untitled'22
Dec. 2022 – Jan. 2023
Opening this December 1st, Rogier Bosschaart and Guda Koster will be presenting their new works at BlowUp Gallery in the center of Amsterdam. A year in the making Rogier Bosschaart will be presenting for his first gallery exhibit, a series of new paintings on wooden panels.
With a career as a high fashion model spanning 20 years, Bosschaart is no stranger to the realm of the visual. Through extensive travel, and exposure the vector of runway and the fast-paced world of fashion, his venture into painting is a logical expression of the visual chaos and world of beauty he was exposed to. These influences are expressed in his highly formal paintings, displays of chaos and color which miraculously teeter on visual harmony.
In the untitled dots series, the artist takes the explosive world of visuals and distills them into a space whose depth cannot be determined, colours cannot be extricated, and forms continually rearrange when out of eye sight. In mathematical language, dots(points) are described as locations within a grid. The dot series act as a visual map through color, taking the spectator visually through a series of locations into forms which, like a Rorschach test, emerge individually for each viewer.
Bosschaart's work is highly influenced by ideas of physical sciences. The observer effect, quantum theory, and relativism. This marriage of science has historically worked in tandem. The study of color was an early venture taken by both artist and scientist, a category which used to intersect through vigorous experimentation. This new series brings about the sense of wonder into the mysteries and deceptions of the chromatic world. The colours seem to breathe and bounce, and slip through the shared dimensions on the picture plane. This arresting visual show leaves the viewer both soothed, in the form of cosmic awe, but continual searching for the color which pops into focus and out again.
The pieces themselves were created with mandala-like concentration. Slowly building them up over months of time in a process that involves an active practice of experimentation. The control and acceptance of chaos echoes through the piece.
Born and raised in Amsterdam, with both parents involved in theatre making, Bosschaart has experienced the change of Amsterdams cultural roots. His placement within the Vliegtuin-studios places him amongst the artists of Amsterdam, prided on their emphasis on craftsmanship and DIY spirit.
Dec. 2022 – Jan. 2023 \\ BlowUp Gallery \\ Hortusplantsoen 7 \\ Amsterdam